Sherwood Y Dragons
Breathing fire into water the YMCA Dragons build lifelong skills in the water and out. Commitment, dedication, time management and leadership skills are taught and practiced daily. We have training groups that fit each individual's ability and goals. For schedule information please visit our Schedules Page.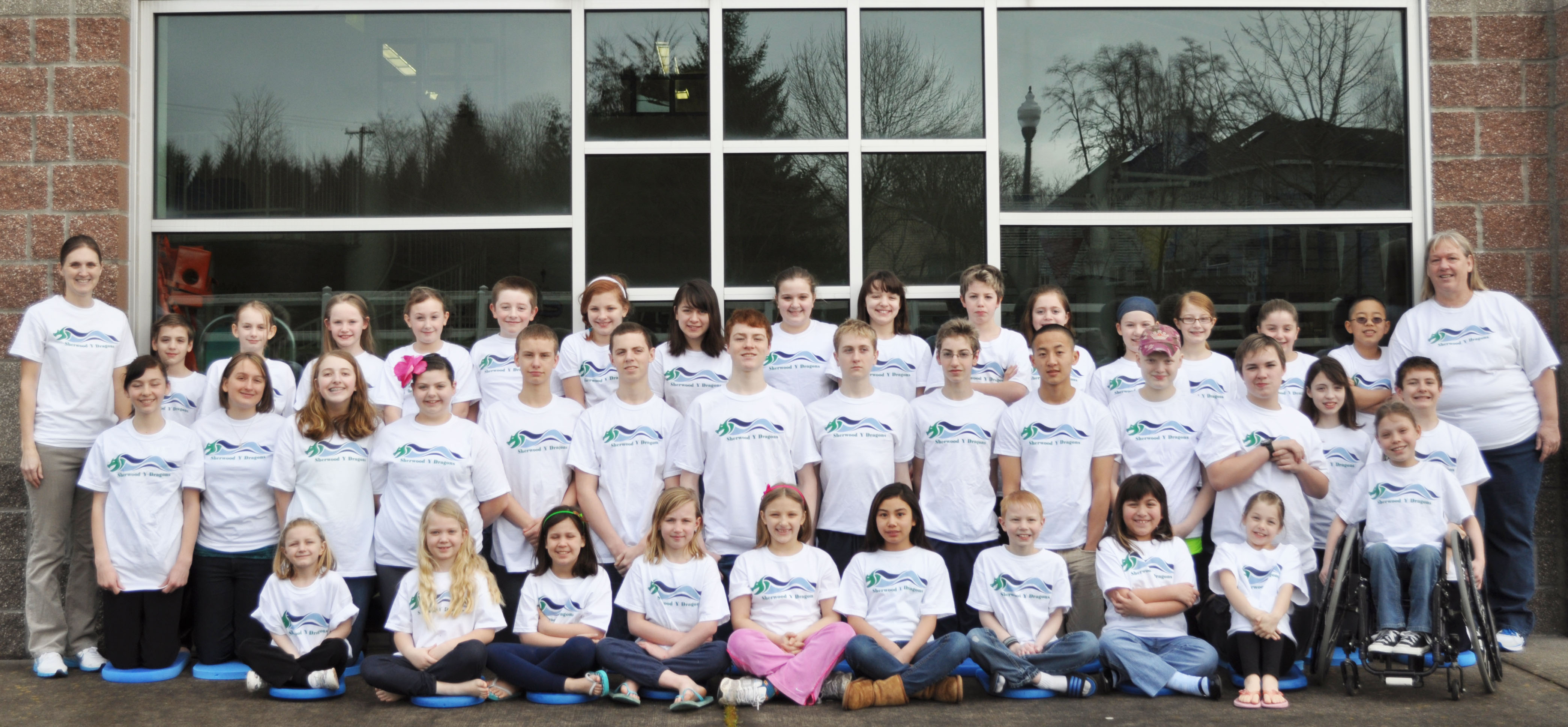 Prerequisites
Ability to swim one length of the pool front crawl and back crawl.
Fees
Swimmers must be facility members, fees vary depending on swimmer's ability, annual USA swimming fees apply.
Tryouts
Selected Saturdays when the team is in town. For more information contact Coach Deb Mandeville at 503.862.4014.
Swim Season
There are two swim seasons a year, the short-course runs from September to March and the long-course from April to August.
Stroke and Turn Officials Needed
The Sherwood Y Dragons are well known for their volunteers at swim meets they attend. At these swim meets there is always a need for Stroke and Turn Officials. These officials watch the swimmers for fouls with their strokes and turns during a competition. Their participation is integral to the success of any swim meet. Periodically clinics are taught to certify officials, if you are interested please contact Deb Mandeville at 503.862.4014 for information. Your participation will represent the Sherwood Y Dragons and contribute to the success of the swim meets.
Sherwood Y Dragons are well known and represented as volunteers at meets we go to. They always have a need for volunteers to become officials. Stroke and Turn Clinics are periodically taught. If you are interested in helping the team as an official please contact Deb Mandeville at 503.862.4014.
Master's Swim Program
The Master's Swim Program is a coached activity designed for anyone who would like to participate in up to four workouts a week. All skill levels are welcome. It's fun, it's work and it's rewarding. They meet Mon/Wed evenings from 7:00 – 8:00 PM or Tues/Thurs from 6:00 – 7:00 PM. For more information contact our Aquatics Department at 503.862.4014 or Deb Mandeville, Head Swim Coach .
Hatchlings: Pre-Competitive Swimming
This pre-competitive swim program is for those interested in competitive swimming and all that goes with it. Swimmers must be able to swim the length of the pool with the freestyle and backstrokes. This is a summer only class that runs for 10-weeks. Ages: Suggested for Guppy or Starfish swimmers. Fee: Members $100, Program Participants $150 Schedule: Tuesday & Thursdays, 2:15 – 3:00 PM
Other Information
Oregon Swimming, Inc.
USA Swimming
Meet Results
Swim Team Fundraising